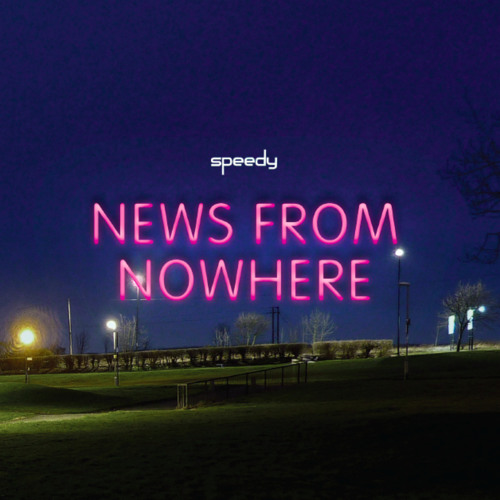 Prior to the announcement that their long-lost debut album was to be belatedly released by
The Lost Music Club
, I'd never even heard of Speedy, much less listened to any of their songs. Nonetheless, I was well up for
News From Nowhere
, because it represented an opportunity for me to enjoy the heady rush of Britpop firsthand (I was a little too young to appreciate the movement in its heyday; for reference,
Country House
and
Roll With It
were released on the day I turned 4).
A lot of people are dizzy with excitement for this album's release; for my part, I'm judging it against three yardsticks in particular:
Attack of the Grey Lantern by Mansun - One of my all-time favourites, and the perfect response to any claim that Britpop was devoid of imagination and creativity. Given that News From Nowhere is ostensibly "a concept album that explores the people and tales of life on the urban fringes of modern Britain", it was always going to be somewhat reminiscent of Mansun's masterpiece.


Coming Up by Suede - Packed with hits (no fewer than 5 of its 10 tracks were released as singles) and merciless in its infectiousness, Coming Up offers a more straightforward Britpop experience than its adventurous predecessor Dog Man Star. Pre-release banter about News From Nowhere has emphasised Speedy's "brash choruses" and "unashamedly catchy tunes", which is a rather good description of Coming Up-era Suede, actually.


Different Class by Pulp - This is the crucial benchmark as far as Speedy are concerned. They came from Sheffield, just like Pulp, and by name-dropping the Common People hitmakers in their press release ("They were as much a part of the city's scene as Pulp..."), The Lost Music Club have implicitly promised that News From Nowhere will be a big hit with fans of Cocker & Co.
Oasis and Blur can do one; verily, these were the Britpop Champions.
So, how do Speedy fare when compared to these three titans of the subgenre? Well, there are certainly comparisons to be made; the Pulp similarities are noticeable right from the off, as Anytime Anyplace Nowhere hits us with a sprinkling of synth and a line about a bike (very Different Class). But once you've settled into the album, it becomes clear that Mansun are a far more pertinent touchpoint. For one thing, Speedy's songs are positively teeming with misfits, weird and wonderful characters like the Karaoke King and Fisto who are only a stone's throw, conceptually, from quirky Draperian creations like Egg-Shapped Fred and the notorious Stripper Vicar.
Even the swooning Suede fans will find plenty to love in the romantic likes of Time For You and my personal favourite I Like You So Much. But those songs are great examples of how, in spite of the passing similarities - orchestral strings à la The Chad Who Loved Me, soaring synthesisers taken straight out of Pulp's Happy Endings - News From Nowhere is fundamentally unlike any of the three albums I'm struggling to liken it to.
In fact, it reminds me more of Jollification by The Lightning Seeds or Saint Etienne's relatively recent Tales from Turnpike House. The Lost Music Club may be touting NFN as a "Britpop gem", but in all honesty, I don't know that this music is particularly representative of Britpop's boom period. I suspect that big hitters like Oasis and Pulp went out of their way to sound kind of cool and aloof, whereas Speedy were (are?) solely concerned with making unabashedly joyful pop music. Just listen to the euphoric Boy Wonder:
Again, I could attempt to draw lines from that song to Mansun, or to Suede, or to Pulp, but in the end it's an entirely different flavour of ice cream. Even I Like You So Much, with its dark, sinister underbelly (the lyrics contain very creepy references to death and murder) is a glowing, gushing pop song at heart, with a spectacularly poppy bridge leading into its big, big chorus.
All of which is to be celebrated - the best bits of this album are very good indeed, laden as they are with synthetic brass lines and that exquisite Englishness that seemed to die with the turn of the millennium. Oh, and even if it doesn't bear much resemblance to Britpop as we think of it nowadays, News From Nowhere still comes coated in a layer of sweet, glorious nostalgia - you'll feel just like it's 1997 again.
Even if, like me, you don't really remember 1997.
Speedy are playing at Birthdays in London tonight, and in Sheffield's Leadmill tomorrow.
News From Nowhere
is scheduled for release on Monday (April 7), and you can order your copy here.